This one an old trope in many dumb sci-fi movies involving virtual reality: you die in the game, you die in real life. In said movies, the characters are trapped in a video game and must play for their lives. If their avatar is destroyed, so are they.
It seems that someone has turned this metaphor into reality. So someone literally created a VR headset it kills you if you lose a video game. Fun, huh?
The creator isn't just any old man, but 30-year-old virtual reality prodigy Palmer Luckey. contractortrump-to smelland co-founder Oculus, the Facebook VR company got it For a cool $3 billion in 2014.
Lucky fell a blog post on Sunday, explained his strange new headset — which he claimed was basically "office art" at the moment — and included a photo of it.
For reference, this looks like this:
G/O Media may receive a commission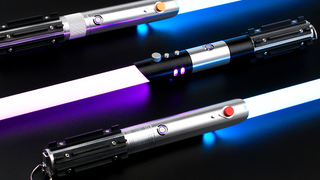 *lightsaber hum*
SabersPro
For the Star Wars fan with everything.
These lightsabers powered by Neopixels, LED strips that run inside the blade shape that allow for adjustable colors, interactive sounds, and changing animation effects when dueling.
Yes, this thing will actually end your life. More specifically, it is rigged with bombs so that your head will explode.
In his blog postLuckey explains how his killer new tool is supposed to work:
I used three explosive charge modules that I usually use for a different project, connected them to a narrowband photosensor that could detect the screen flashing red at a certain frequency, and allowed the developer to integrate the game a lot. easy. When the corresponding game screen appears, the charges ignite and instantly destroy the user's brain.
Jesus.
In other words, Luckey revived the plot of an unsubstantiated anime webcomic from the mid-2000s. Sword Art Online. Indeed, Luckey says this comic is the main inspiration behind his project. In the comic, the characters do something called the NerveGear, which is "an incredible device that perfectly recreates reality using a direct neural interface capable of killing the user." Then they are thrown transformed into a matrix-like world by a mad scientist and forced to toughen up a "death game" where the game's stakes are tied to their own deaths. For Luckey, this is an interesting idea:
The idea of ​​connecting your real life to your virtual avatar has always fascinated me – you immediately raise the stakes to the max and force people to fundamentally rethink how they interact with the virtual world and the players within it. Loaded graphics can make the game look more realistic, but only the threat of serious consequences can make the game feel real to you and everyone else in the game.
Righttttt…well, that is certainly an interesting idea, although some might argue that the enjoyment of gaming actually comes from experiencing death-defying scenarios. no let your head explode. Some people might argue with that.
Anyway, good idea or not, Luckey has plans to add "anti-tamper" technology to his new hat to make it even scarier than it already is:
It's certainly not a perfect system. I have plans for an anti-tamper mechanism like the NerveGear that would make it impossible to remove or destroy the headset.
So the ultimate goal here is to create a killer helmet that you literally can't take off. Once it's attached to your noggin, the only two scenarios you can remove it from are A) where you win the game, or B) where a decapitated corpse is pulled from a bloody pile. what wretched soul is scattered by everything it stumbles upon. That's probably why Luckey hasn't used the thing yet. He says:
… there are many failures that can kill the user at the wrong time. So I haven't had the balls to actually use it, and so I'm pretty sure that the final trigger, like in SAO, should really be tied to a highly intelligent agent who can easily determine if there are termination conditions. actually correct.

…At this point, it's just a piece of office art, a thought-provoking reminder of unexplored avenues in game design.
Some will no doubt find it an exciting idea, while others (nowadays, let's be honest, most people) will probably shy away from participating after reading "kill the user at the wrong time". Unfortunately, I fall into the latter camp, although a cocktail of curiosity and schadenfreude will definitely keep me following the progress of this project for the foreseeable future.